A Roof Over My Head (2014)
24.07.2014
A Roof Over My Head: the final report of the Sustain project, a longitudinal study of housing outcomes and wellbeing in private rented accommodation. Co-authored by Crisis and Shelter.
About the report
The Sustain project is a longitudinal qualitative research study of people's wellbeing and outcomes in private rented sector housing.2 It focuses on the experiences over time of people resettled into the PRS after having been homeless and answers questions about tenancy sustainability and wellbeing in the PRS.
We set out to explore what happens to homeless people after they have been moved into PRS housing by tracking them and revisiting them over a 19 month period. This report offers an overview of the key findings of the project, setting out the self reported experiences of 128 participants.
The report focuses on their final outcomes at 19 months and uses case studies to illustrate how their experiences changed over time.
Sustain is based on qualitative evidence on wellbeing in relation to housing. This method recognises the need to know more about people's experiences of housing in order to explain their outcomes, and the fact that categorising them into tenancy failure or success does not tell the whole story (actually, our research has found it tells very little of it). Qualitative data enables us to contextualise the profound role that accommodation plays in wellbeing and provides deep insight into housing outcomes.
The report and analysis draw on self-reported experiences. Throughout the report, first-person quotes or case studies are used to illustrate experiences and provide more detail. While the analysis focuses on people's experiences, researchers witnessed many of the more severe and easily viewed problems such as damp or infestation; small rooms or disrepair.
Reference
Dr Mary Smith, Dr Francesca Albanese and Dr Jenna Truder, Shelter and Crisis, 2014.
See also: Sustain: a longitudinal study - Interim Report (2012)
Downloads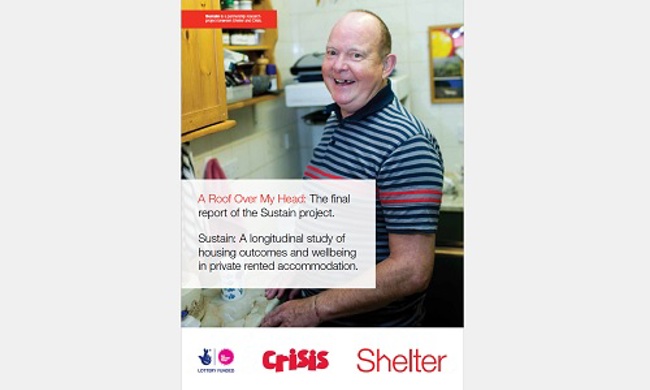 The final report of the Sustain project. A longitudinal study of housing outcomes and wellbeing in private rented accommodation. 2014
---