People's experiences of welfare conditionality and benefit sanctions
14.03.2015
A new, harsher system of welfare conditionality and sanctions was introduced in 2012, this report explores the impact on homeless people.
Key findings
The evidence points to high levels of labour market detachment amongst homelessness service users. A significant proportion of survey respondents were not 'fit for work', had health issues that limited the work they could do, and had last worked more than five years ago. However, a significant minority did have a recent work history and the vast majority wanted to work, in some cases despite having been assessed as unfit to do so.
The evidence suggests that it is systemic and personal barriers to meeting conditionality requirements that explain the high sanction rate amongst homelessness service users rather thanunwillingness to comply. Key barriers include:

the requirement to job search online combined with homeless peoples limited access to the internet
personal circumstances and vulnerabilities limiting capability to meet requirements
insecure postal addresses
the 'full time job' of managing the many personal issues and commitments many homeless respondents have combined with limited flexibility in the benefits system
and the complexities of the system, compounded by unclear communication and processes.

Universal Jobmatch appeared to be yielding no meaningful opportunities for participants in this study. They reported extremely low success rates (hundreds of jobs applied for with no interview secured or response of any kind received), hardly ever receiving a curtesy response to applications and jobs remaining on the website for months, arousing suspicion that they were not genuine and undermining trust in the system. These experiences had a demotivating effect for respondents, many of whom were already relatively low on self-esteem. The evidence from this study suggests that the sanctions regime does prompt some behavioural change, making homelessness service users more likely to comply with the conditions set down for them, where they are able to. However, most respondents reported already doing all they could to meet their conditionality requirements.
Being sanctioned was found to have a series of 'unintended' impacts on respondents' lives, pushing them into debt, hunger, straining relationships with friends, family and children and exacerbating mental and physical health problems in an already vulnerable population. Three quarters of the survey respondents who had been sanctioned said this had a negative impact on their mental health.
Reference 
Batty, E., Beatty, C., Casey, R., Foden, M., McCarthy, L. & Reeve, K. (2015) Homeless people's experiences of welfare conditionality and benefit sanctions. London: Crisis.
Downloads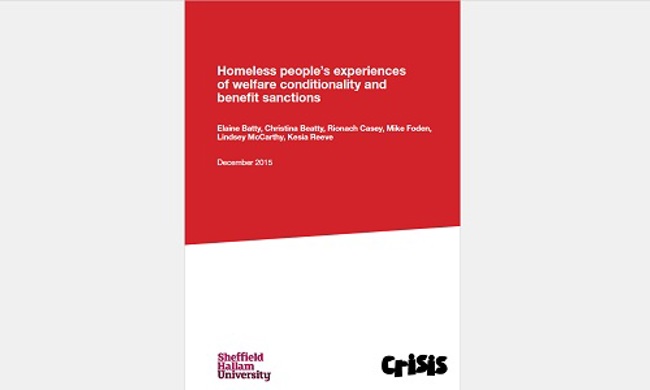 A new, harsher system of welfare conditionality and sanctions was introduced in 2012, this report explores the impact on homeless people.
---