Lear Alone in support of Crisis
13.07.2021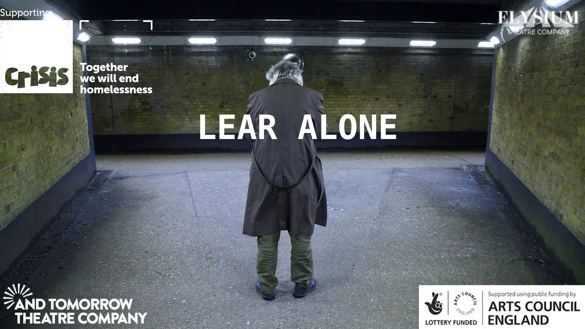 We are delighted to announce our partnership with AndTomorrow Theatre Company, who launched 'Lear Alone' on 11 July 2021.
"Lear Alone is a web series based on King Lear, mounted in partnership with the charity Crisis. The series will comprise five, 10-minute episodes released weekly via YouTube. Using just Lear's lines from Shakespeare's first folio, it will explore themes of loneliness, ageing and homelessness: a study of one man's vulnerability as he confronts and negotiates a digital world.
Our disenfranchised Lear's relationship to the text, and to the viewer, will be determined by the phone in his hand, the noise on the streets and the disturbance inside his head. Performed solely by 69-year-old actor Edmund Dehn, we will film on location in and around London, starting at Denville Hall. The series will be presented as a play within a play - as such, Edmund plays the part of an actor playing Lear: trying to find his voice and his place in the world as he grapples with homelessness. The intersection of loneliness, homelessness and older age is one which we passionately wish to explore and expose by means of centring our story on its ageing protagonist.
Figures from the Office of National Statistics in 2019 showed that the number of older people in England seeking help for homelessness had risen by 39 per cent in the previous five years: a growing societal problem forced even further into the public consciousness as a result of coronavirus. Presented as five weekly episodes and released via YouTube the series will be free to view but donations to Crisis will be encouraged via a JustGiving link."