Tangent's 50th Anniversary Lunch
13.10.2021
We would like to send a huge thank you to Tangent Clubs, who celebrated their 50th Anniversary while helping end homelessness.
 Tracey Pickin, president of the Association, hosted the celebration lunch for 350 ladies.
Held at the National Conference Centre in Birmingham, the ladies celebrated with a champagne reception and a delicious lunch and were entertained by a rock choir and Steve Pateman – Mr Kinky Boots!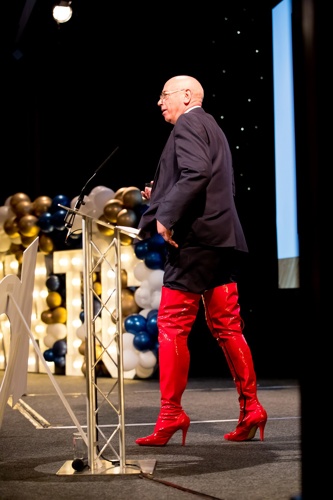 They raised money for Crisis with a fabulous raffle and commissions from various stalls , the bar and the photographer. The final total is not yet known but looks to be in the region of £2500. The celebration had been postponed several times because of coronavirus and for many of the guests it was their first outing for a long time so a good time was had by all catching up with old friends, making new ones and raising funds to support the excellent work done by Crisis.
Tracey will be leading on several more exciting events for the Tangent ladies in the months to come to continue raising money for Crisis.
Thank you to Tracey, and Tangent Clubs, for this incredible partnership.