The Aid Fundraiser presents Laugh Till It Hurts with Terry Alderton, Tony Law, Dane Baptiste, Glenn Moore, Paul Tonkinson, Hannah East, Charlie George, Arthur Smith, Patrick Monahan & Mark Dolan (MC). This is The Aid Fundraiser's first event of 2022 and will raise money for Crisis!
When: Thursday 28 April, 7:30 pm
Where: 21SOHO, 3-5 Sutton Row, London, W1D 4NR
Tickets: £15 (+£1.50 booking fee)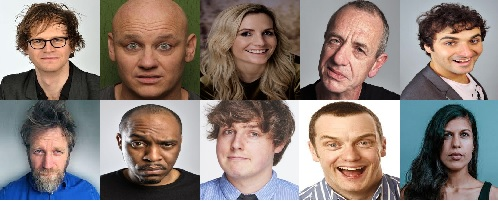 Mark Dolan (MC) "Consistently Funny" Independent.
Terry Alderton "He's proved himself as a comedian of dizzying inventiveness" The Times.
Paul Tonkinson "Excellent…extremely talented …brilliant" Timeout.
Dane Baptiste "Observational comedy at its finest" The Independent.
Glenn Moore "Fantastic – brilliantly performed and hysterically written" The List.
Hannah East "She is a story teller about life as a mum, One to watch".
Arthur Smith  "comedic expression… Today's hottest young comics still see him as an inspiration" Guardian.
Tony Law "Form-busting and hugely enjoyable" The Times.
Charlie George "A personable and witty comic with a playful, naughty streak and an ear for a strong gag. Steve Bennett" Chortle.
Patrick Monahan "Bright young talent…high energy and conviction, his material is great; he's going to go far" Sunday Times.