Café from Crisis has worked to end homelessness through practical hospitality training whilst serving fresh and socially conscious food and coffee. Through technical training such as kitchen craft and barista skills, our trainees have gained qualifications and confidence in a public facing environment where they are supported on their journey out of homelessness.
Since 2018, our cafes have supported more than 165 people to join our accredited taster days, and over 130 people to join our café training programme. Supported by Café from Crisis staff, these trainees have thrived, with many moving into work or further training.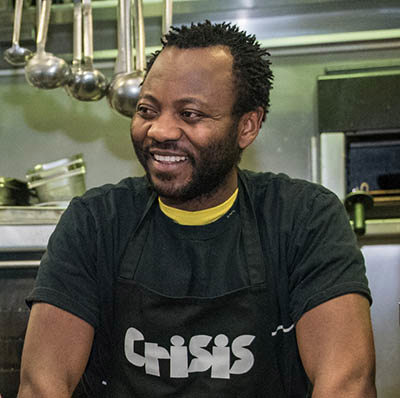 "I made cassava with cabbage, carrot, sweet pepper and pumpkin and they put it on the menu. It was an amazing time in my life because I couldn't imagine where I would cook something and the customer would eat and say 'wow!'. And they like it and enjoy it. I was very happy."
Achille, Crisis trainee
Further training opportunities
Although our own Café training programme is no longer running, we're continuing our partnerships with established hospitality training organisations to ensure that members can access kitchen and hospitality opportunities.

If you're looking for hospitality or employment-related training keep an eye on our Noticeboard, which is updated with any upcoming opportunities from Crisis or our partner organisations.
Hotel School
Hotel School teaches hospitality skills to homeless and vulnerable people, matches them to sustainable employment, and supports them in their first steps into work.
Beyond Food Foundation
Beyond Food are a charity providing training and support to people who have been impacted by homelessness, mental health, addiction, those with a criminal record or who are at risk of homelessness.
House of St Barnabas
House of St Barnabas provide training to people experiencing homelessness. Their employability programme supports people to find lasting paid employment, continuing to offer structured support to help graduates keep and progress in work.
Dusty Knuckle
Dusty Knuckle is a bakery and café that provide work-based mentorship/support, training, and employment opportunities to at risk youth (aged 17-29), including those with offending histories.
https://www.thedustyknuckle.com/